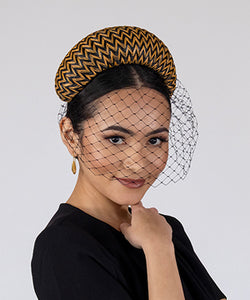 Face-to-face course
Springtime Glamour: The Birdcage Veil
Regular price
$63.00
$0.00
Unit price
per

in partnership with Melbourne Fashion Week
Get ready to dress up for Fashion Week by making a detachable birdcage veil that can be worn on its own or under your favourite hat. Welcome to our 1.5-hour workshop at the amazing studio of the renowned Melbourne milliner, Louise Macdonald. Picture this: the studio is right in the heart of Melbourne's iconic Nicholas Building, with breathtaking views of St. Paul's Cathedral. Get ready to rock Spring Fashion Week as you dive into the awesome world of millinery and create your own detachable birdcage veil!

No worries if you're new to this – we'll show you the ropes, teaching you all the cutting, stitching, and stiffening techniques to make your veil look absolutely seductive! By the end of the session, you'll have crafted a beautiful veil that'll take your style game to the next level.

But wait, there's more! We'll give you a stylish box to pack your creation. That means your veil will be ready to rock and roll throughout the entire season, adding that perfect touch of elegance to your outfits.
Date: Monday 23 October 2023, 6pm to 7.30pm
Location / venue: Room 3, 8th floor, 37 Swanston Street (corner of Swanston Street and Flinders Lane), Melbourne (view location on Google Maps)
Cost: $95
Waiting list: If this course is sold out, join our waiting list
Terms and Conditions
Cancellation and Refund Policy
Privacy Policy
Enquiries: For more information, contact Louise Macdonald
---