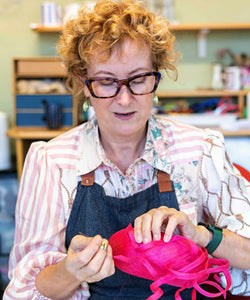 Face-to-face course
Headwear Alchemy: Crafting Magic in a Millinery Studio
Regular price
$7.00
$0.00
Unit price
per

in partnership with Melbourne Fashion Week
Step into the enchanting world of millinery with a captivating one-hour demonstration at one of Melbourne's last professional millinery studios. Louise Macdonald, a seasoned milliner with over 30 years of experience, extends a warm welcome to her magical studio, situated overlooking the magnificent St. Paul's Cathedral.

During this one hour demonstration, prepare to be captivated as you explore the fascinating realm of materials, tools, and equipment involved in the craft. Louise will skillfully demonstrate the process of shaping and reinforcing the delicate materials, offering valuable insights into the intricate techniques that go into creating these masterpieces.

Not just a demonstration, but a delightful experience, you'll also be treated to some fun trimming ideas that add flair and creativity to the finished products. With this enriching talk, you'll leave the studio with a newfound appreciation and understanding of the world of millinery, its artistry, and the craftsmanship that goes into each creation. Don't miss this opportunity to delve deep into the world of handcrafted millinery and uncover the secrets of this timeless art form with the expertise of Louise Macdonald as your guide.
Date: Wednesday 25 October 2023, 11am to 12pm
Location / venue: Room 3, 8th floor, 37 Swanston Street (corner of Swanston Street and Flinders Lane), Melbourne (view location on Google Maps)
Cost: $10
Waiting list: If this course is sold out, join our waiting list
Terms and Conditions
Cancellation and Refund Policy
Privacy Policy
Enquiries: For more information, contact Louise Macdonald
---