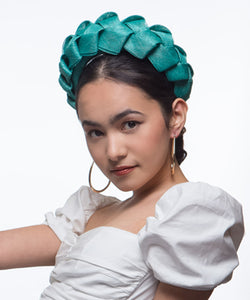 Face-to-face course
Summer Millinery Intensive – Option 1
Regular price
$559.00
$0.00
Unit price
per
This immersive course, led by renowned tutors Louise Macdonald and Lauren Ritchie, will take you on a creative journey, crafting stylish accessories perfect for both the summer season and the festive celebrations.
Days 1 and 2 – You'll be guided through the process of making a chic sun hat, perfect for shielding yourself from the sun's rays during the warmer months. To add a touch of elegance to your festive wear, you'll make 2 headbands ; one using traditional folding techniques with ribbon and the other a sinamay halo with some decorative weaving!
Day 3 – You'll have the pleasure of learning from tutor Lauren Ritchie. She will introduce you to the art of using straw braid over a pre-blocked shape, unlocking a whole new world of possibilities in millinery design. This technique will allow you to experiment with textures and create stunning hats that are both fashionable and practical while learning traditional skills and techniques.
Day 4 – Lauren will teach you how to craft beautiful silk flowers, covering fabric preparation, cutting, shaping, and assembling. These silk flowers will add a delicate and whimsical touch to your millinery creations, allowing you to express your unique style and creativity.
But it's not just about learning new skills; our Summer School in Millinery is a place of creativity and camaraderie. Meet like-minded individuals who share your passion for crafting, and embark on this artistic journey together. You'll make new friends and have the opportunity to exchange ideas and experiences, enriching your creative process.
Whether you're a seasoned milliner or a beginner looking to explore the world of hat-making, this course caters to all skill levels. Under the expert guidance of Louise Macdonald and Lauren Ritchie, you'll gain valuable insights, refine your techniques, and leave with a sense of accomplishment. Don't miss this chance to immerse yourself in the art of millinery, and sign up for our Summer School today. Unleash your creativity, have fun, and create stunning headwear that will be the envy of all!
Date: Saturday 9 December to Tuesday 12 December 2023, 10am to 4pm
Location / venue: Room 3, 8th floor, 37 Swanston Street (corner of Swanston Street and Flinders Lane), Melbourne (view location on Google Maps)
Cost: $850 (sun hat material provided)
Waiting list: If this course is sold out, join our waiting list
Terms and Conditions
Cancellation and Refund Policy
Privacy Policy
Enquiries: For more information, contact Louise Macdonald
---